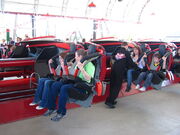 A Wing Coaster is a roller coaster design by Bolliger & Mabillard. Riders are suspended on either side of the track, secured with over-the-shoulder restraints. As of November 19, 2014, there are eight such installations; six operating, one testing, and one under construction.
Installations
Similar Rides
Intamin AG has developed a similar ride, known as a WingRider. It is actually an Accelerator Coaster with modified trains that suspended on the sides of the track. The only ride of its type, as of 2012, is Furius Baco at PortAventura Park. Intamin AG also has another similar ride, known as a Wing Coaster. It features traditional above track seating, with additional wing seating. The only ride of this type, as of 2012, is SkyRush at Hersheypark.
This ride is similar to a 4th Dimension Roller Coaster. However, their cars spin, while Wing Coaster cars do not (they stay in a stationary fowards postion).
Gallery
Community content is available under
CC-BY-SA
unless otherwise noted.