I have two reasons for this post, so first, lets get with the community questions.
Bucket list. I'm sure all of us have those coasters we look at and drool. (Not really, but you get what I'm saying) So, what are those Coasters/parks?
5. Intimidator- A B&M Hypercoaster similar to Diamondback. I loved Diamondback, and I love B&M. Not to mention out and backs are by far, my favorite type of coaster.
4. Bizarro- The "rival" to Millennium Force, that purple hyper coaster. Consistently getting 1st or 2nd in the Golden Ticket Awards... I think there's no wonder why this is in my top!
3.
Fahrenheit
- A
Hershey Park
masterpiece. This more-than-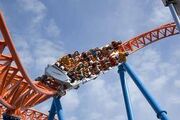 straight-down coaster twists along the track furiously. I'm not 100% sure why this coaster is on my top... It just appeals to me. Something I would like, I guess.
2. Kraken- A sea world behemoth, this is one of the most intense, G filled, looping, B&M coaster I know. The non-stop inversions, the turns, the beauty of it all. The smoothness of it, the tunnel- it all adds up to a must ride for me.
1.
Cheetah Hunt
- This coaster has 3 launches, amazing scenery, a crazy element, speed, g's, non-stop action, good looks, and a great name. This is the coaster that I wish I could ride so bad. It looks visually pleasing, it has some elements that I wish was in more coasters... Its long, smooth, and a lot like
Maverick
.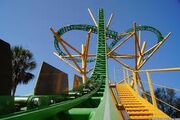 OTHER LISTS
Runner ups: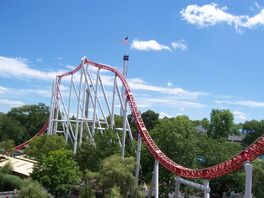 PARKS:
1. Hershey park
So, what are yours? You don't have to be as detailed as mine, but that might be fun. I had fun making mine. Please comment!
Also, this Friday, I will be leaving for Florida! I will only be going to Universal Studios, it will be a lot of fun. I'm escpessially exicted to ride the only B&M launched coaster in existance. It'll be a ten day trip, so I won't be editing for awhile, though. Just a heads up.
So, this leads me to a second question, what are your current plans for Trips? I will also be going to Cedar Point three times this year. I saved up 300 dollars so that I could go with some friends on my birthday. A second trip with my church, and a third with another set of friends who invited me. But that's it.
What's yours?