This article contains a dated infobox.
It would be greatly appreciated if you help us by converting it to the new one. For help in doing this, please visit this page.
Thirteen

l-

l colspan="2" style="text-align:center;" l

Thirteen (Alton Towers) - OnRide - (360p)



Statistics

Park

l Location l United Kingdom l- l Opened l March 20, 2010 l- l Manufacturer l Intamin l- l Type l Family l- l Capacity l 1500 Riders per hour l- l Height l 60 ft (18m) l- l Inversions l 0 l-
Thirteen (sometimes written as Th13teen) is a steel Family roller coaster at Alton Towers at England. The ride was manufactured by Intamin AG and was officially opened on the 20th March 2010. The ride is a replacement for Corkscrew, which resided at the park for 28 years between 1980 and 2008.
Early Development
The park first revealed their plans for the ride in October 2008 when explaining the reasoning for the removal of the Corkscrew. Planning permission was initially delayed due to concerns about the Iron Age hill fort in the vicinity. However, in March 2009, Staffordshire Moorlands District Council accepted planning permission for the ride (with conditions) and groundwork construction commenced about three months later. During the planning stages and construction, the ride was codenamed 'Scecret Weapon 6', a trend that had been started with 2 planned but unbuilt pre-Nemesis coasters at Alton Towers, and has continued with all the coaster ever since.
The initial idea for the secret element originated from a previous rollercoaster plan designed by John Wardley, Ride Consulant for Merlin Entertainments, in which a piece of track tilted back and forth during the ride. This, however, would not have been a worlds first though, as a similar concept was put in effect with Vekoma's Gravity Max. Thus the original ride design never came to fruition, however the concept of a moving track piece was kept.
Ride Experience (Spoilers!)
First, The train takes a sharp tun to the left, and enters a 60-ft lift hill. There is then a sharp drop down. The train then goes through ups, downs and turns. The train then enters the second small lift hill. It then takes a sharp turn to the right into the crypt, which is where the 'suprise' element takes place. dim lighting and special effects slightly disorientates the riders. A loud bang is heard, and the track that the train is on drops 30 cm, Then another loud bang is heard, then the track drops roughly 5m. The train then starts going backwards in darkness, to disorientate the riders. The train then returns to the station.
Logo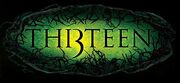 Community content is available under
CC-BY-SA
unless otherwise noted.