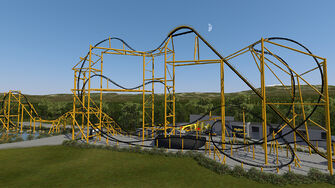 Steel Curtain

Exclusive - Steel Curtain front seat on-ride 4K POV @60fps Kennywood

General
[[File:|link=|center]]
Park
Kennywood
Location
Pittsburgh, Pennsylvania
Status
Operating
Operated
Operated

2019

-
Opened

2019

Opening
Cost
Height restriction
48"
Statistics
Manufacturer
S&S / Sansei Technologies
Builder
Designer
Type
Steel
Type
Model
Hypercoaster
Riders per train
24
Riders per hour
Lift/launch system
Chain lift
Height

220 feet

Drop

197 feet

Top speed

75 mph

Length

feet

Dimensions

feet

x

feet

Duration
Approximately 2 minutes
Inversions
9
Steepest drop
Maximum g-force

The Steel Curtain is a roller coaster currently operating at Kennywood in Pittsburgh, Pennsylvania. The roller coaster opened on July 13, 2019 and is the first coaster in the U.S. to have 9 inversions.
Design
The ride is manufactured by S&S Worldwide.
Trains
6 cars. Riders are arranged 2 across in 2 rows for a total of 4 riders per car
Community content is available under
CC-BY-SA
unless otherwise noted.