This article contains a dated infobox.
It would be greatly appreciated if you help us by converting it to the new one. For help in doing this, please visit this page.
Son of Beast was a wooden hyper roller coaster located at Kings Island in Mason, Ohio. It was billed as the sequel to Beast. When the ride first opened in 2000, Son of Beast was the only wooden roller coaster in the in the world to feature a vertical loop. The loop was later removed after an incident in which 27 people were injured. The loop was not directly related to the incident, but was removed to allow for lighter trains, to reduce the chances of a re-occurrence.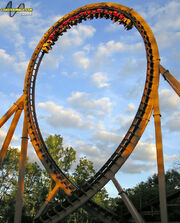 After the incident in 2009, the ride remained closed for the rest of the season. At the Halloween of 2010, the loading station was wrapped with gray plywood for a new attraction.
On July 27, 2012, Kings Island announced that the roller coaster would not reopen and was dismantled from the park.[1]
Former World Records
Edit
Apparently, there was some teasing going on at HalloWeekends at Kings lsland. The teasing is of a casket with broken chains around and a tombstone behind it that says "My beloved son". This is located in front of The Beast. It could just be a reference or a little tease for the future.
References
Edit
Community content is available under
CC-BY-SA
unless otherwise noted.