Shambhala

Shambhala - OnRide

General
[[File:|link=|center]]
Park
PortAventura Park
Location
Salou, Tarragona, Spain
Status
Operating
Operated
Operated

12 May 2012

-
Opened

12 May 2012

Opening
Cost
€25,000,000

($34,500,000USD aprox.)

Height restriction
55 inches (140 cm)

Max:83 inches (210 cm)

Statistics
Manufacturer
Bolliger & Mabillard
Builder
Designer
Type
Type
Sit-Down
Model
Riders per train
32
Riders per hour
1680
Lift/launch system
Chain Lift
Height

249 feet

Drop

256 feet

Top speed

83.3 mph

Length

5,131 feet

Dimensions

feet feet

x

feet

feet
Duration
3:00
Inversions
0
Steepest drop
77.4 degrees
Maximum g-force
3.8G

Min: -0.5G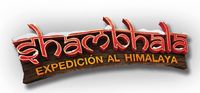 Shambhala is a Bolliger & Mabillard hyper roller coaster located at PortAventura Park in Salou, Tarragona, Spain. The on-site construction was handled by RCS GmbH, and the ride opened on 12 March 2012.
Shambhala is the tallest and 2nd longest roller coaster in Europe, and is the 10th tallest in the world, with the 6th tallest drop.
The ride is located in the park's China themed area, and intersects with the Dragon Khan roller coaster, crossing it several times. Due to the ride's length, it extends up to the Polynesia area. The ride goes past a lake with fountains, and a pedestrian pathway.
The ride has cyan rails, white track and dark grey supports.
After leaving the station, the train turns 90 degrees to the right, then begins to climb the 249 feet (76 m) tall chain lift hill. Once the train reaches the top of the lift, the train drops back down to the ground on a 77.4 degree angle reaching speeds of up to 83 mph (134 km/h) and passing through a tunnel. Following the first drop, the track curves upwards into a 190 feet (58 m) airtime hill before dropping again and racing through a sweeping high-speed '&' shape helix. Following this comes some small-size camelbacks and a big splash after a drop and another tunnel. The track ends with 2 more camelbacks and a 180 degree turn into the station.
The trains use staggered seating, first used on Behemoth at Canada's Wonderland, in 2008.
Shambhala won the award of the number 6 steel roller coaster in Mitch Hawkers Steel Coaster Poll.