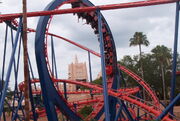 Scorpion is a steel sit-down roller coaster located at Busch Gardens Tampa in Tampa, Florida, USA. It is one of two operating Schwarzkopf Silverarrow models, after Twist and Shout at Loudoun Castle closed in 2010.[1] The other Silverarrow is called "Looping Star" and is currently travelling with Magic World Amusement Park in Africa.
History
Scorpion opened in 1980 as a part of the newly added Timbuktu section that gave the park a complete circuit, linking the Congo section to the Nairobi section of the park. It remains one of the most popular attractions in the Timbuktu area.
In 2004, as a part of the park's Timbuktu renovation, Scorpion was repainted from its original paint scheme of orange track and black supports to its current color scheme of red track with dark blue supports.
Layout
Scorpion has a compact and twisted layout, including the singature vertical loop inversion. After the 60 feet (18 meters) lift hill, riders twist down a drop and pass through the single vertical loop element. Following the loop, the train goes through a pretzel turnaround and threads (goes through the center of) the vertical loop. Riders circle around a 900° helix before entering the brake run.
References