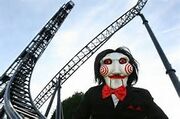 This article contains a dated infobox.
It would be greatly appreciated if you help us by converting it to the new one. For help in doing this, please visit this page.
Saw - The Ride

Saw - The Ride (Thorpe Park) - OnRide - (720p)



Statistics

Park

Location

Chertsey, Surrey, England

Opened

14 March 2009

Manufacturer

Type

Riders per train

8

Riders per hour

1,000

Height

100 feet (30.5 Metres)

Drop

99 feet (33 Metres)

Top speed

55 mph (89 km/h)

Length

2,362 feet (719.9 Metres)

Duration

1:40

3

Steepest Drop

100°

Maximum G-Force

4.7G
Saw - The Ride is a Gerstlauer Euro-Fighter roller coaster located at Thorpe Park in Surrey, England. The ride is themed around the horror movie franchise, "Saw".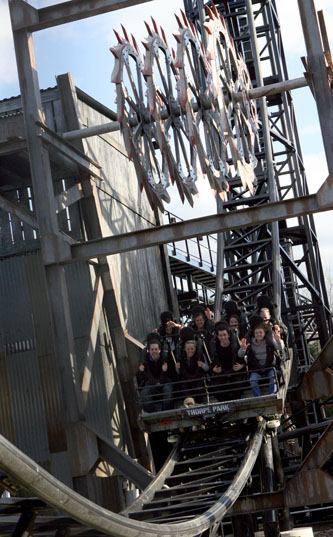 The ride features an
indoor
"
dark ride
" section and a 100° drop, as well as spinning blades located at the base of the drop to create a "head-chopper" effect. 
---