This article contains a dated infobox.
It would be greatly appreciated if you help us by converting it to the new one. For help in doing this, please visit this page.

Riddler's Revenge


Statistics

Park

Location

Valencia, California, USA

Riders per train

32

Riders per hour

1,610

Manufacturer

Type

Height

156 feet (47.5 meters)

Drop

146 feet (44.5 meters)

Top speed

65 mph (104.6 km/h)

Length

4,370 feet (1332 meters)

Duration

3:00

6

Steepest drop

54°

Maximum G-Force

4.2G
Riddler's Revenge (stylistically called The Riddler's Revenge) is a Bolliger & Mabillard stand-up roller coaster located at Six Flags Magic Mountain in Valencia, California.[1] Opened in 1998, Riddler's Revenge set stand-up coaster records for height, drop, speed, length, and the most Inversions on a stand-up coaster. All five of these records surpassed those of Chang (now Green Lantern), which opened at Kentucky Kingdom the year before.
Design
Riddler's Revenge is well known for its interaction with the queue line, causing the ride to be photogenic from numerous areas. It is currently the only stand-up coaster to contain a lift hill that crosses through a vertical loop. In 2004, it's been voted the best roller coaster at the west coast.
Trivia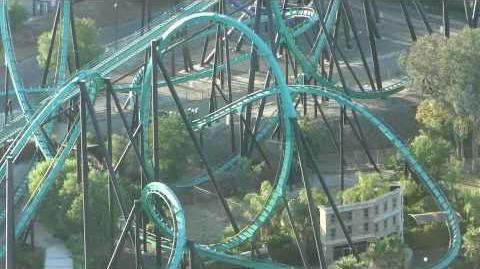 Riddler's Revenge is the second stand-up coaster to be built at Magic Mountain. The first one, known as Shockwave was relocated to Six Flags Great Adventure before it was removed.
The music played in the loading station is "Ecuador - Bruce Wayne Edit" by Sash.
Photo Gallery
References
Community content is available under
CC-BY-SA
unless otherwise noted.