This article is an orphan. You can help Coasterpedia by adding links!
This article contains a dated infobox.
It would be greatly appreciated if you help us by converting it to the new one. For help in doing this, please visit this page.
RC Racer

l-

l colspan="2" style="text-align:center;" l

RC Racer vitesse maximale - Disneyland Paris - Walt Disney Studios Park - OnRide - 480p



Statistics

Park

l Location l Marne la Vallée, Ile-de-France, France l- l Opened l August 17, 2010 l- l Manufacturer l Intamin AG l- l Type l Shuttle l- l Model l Half Pipe Coaster (Unknown) l- l Riders Per Train l 20 l- l Height l 82 feet l- l Length l 269 feet l- l Inversions l 0 l-
RC Racer
is an
Intamin AG
Half Pipe
roller coaster
located at Walt Disney Studios Park in Marne la Vallée, Ile-de-France, France. The ride is part of the "Toy Story Playland" section of the park.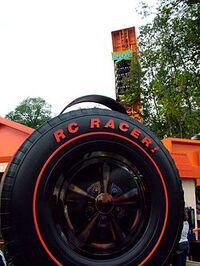 Community content is available under
CC-BY-SA
unless otherwise noted.