Montezum

Montezum (Hopi Hari) - OnRide (1080p)



Statistics

Park

Location

Vinhedo, Brazil

Opened

November, 1999

Manufacturer

Type

Trains / Riders per Train

2 (+1 backward) / 16

Height

139 feet (42,4 meters)

Drop

144 feet (44 meters)

Length

3.380 feet (1030,3 Km)

Top Speed

64 mp/h (103 Km/h)

Duration

2:00

Inversions

0
Montezum is a wooden roller coaster located at Hopi Hari park in Vinhedo, Brazil. It is considered the largest wooden roller coaster in Latin America, and the largest in Brazil, in the categories of length, height, drop, and speed. It is one of the most popular attractions of the park.
In "Hora do Horror" (Time of Horror) (event held in the park in August and September), the roller coaster trains makes the journey taking passengers back. This season, the Montezum is renamed Direversi. Montezum is in the area of the park called Mistieri, his thematization refers to people pre-Columbian Incas, Aztecs and Mayans, and hence comes its name, inspired by the Aztec ruler Moctezuma II, better known as Montezuma.
It took about 18 months, with more than 1,500 employees of the RCCA (Roller Coaster Corporation of America), which is an American company specialized in the construction of wooden roller coasters. It was completed about 6 months before the opening of the park which occurred in November 1999.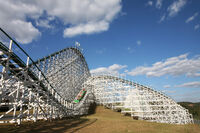 References
Edit
2. http://pt.wikipedia.org/wiki/Montezum
This page needs a POV. You can help Coasterpedia by adding one!