Leviathan

Leviathan (Canada's Wonderland) - OnRide (1080p)

General
[[File:|link=|center]]
Park
Canada's Wonderland
Location
Vaughan, Ontario, Canada
Status
Operating
Operated
Operated

May 6, 2012

-
Opened

May 6, 2012

Opening
Cost
$29,727,600 CAD
Height restriction
Statistics
Manufacturer
Bolliger & Mabillard
Builder
Designer
Type
Steel- Giga
Type
Model
Riders per train
32
Riders per hour
Lift/launch system
Chain Lift
Height

306 feet

Drop

feet

Top speed

92 mph

Length

5,486 feet

Dimensions

feet

x

feet

Duration
3:28
Inversions
Steepest drop
80 degrees
Maximum g-force
4.5

Leviathan is a Bolliger & Mabillard giga roller coaster located at Canada's Wonderland in Ontario, Canada. It is the first Bolliger & Mabillard roller coaster to be taller than 300 feet (91.4 metres).[1] The ride opened on May 6, 2012. Also, Leviathan is the tallest roller coaster to use a single lift chain; although Steel Dragon 2000 is taller, its lift hill is split into two chains.
Name
Leviathan is a sea monster mentioned in the Bible as one of the seven princes of Hell.
Design
The ride features a bent out and back layout that contains eight drops.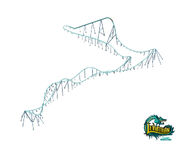 References
External Sources
Community content is available under
CC-BY-SA
unless otherwise noted.