Interpark
Statistics

Location

Spilamberto, Emilia-Romagna, Italy

l Founded l 1976 l- l Roller Coasters Built l 44 l- l Official Website l https://www.roller-coaster.it/ l-
Interpark is an Italian coaster manufacturer, which often work with fairs, but also amusment parks. The company was founded in 1976 and located in the Italian municipallity of Spilamberto.
The name of the company comes from the very first international fair in the sector. The company organized the fair themselves in Modena in Italy. This trade fair was called "INTERPARK Expo 1975" and the fair attracted visitors from 36 differenet countries. The company has since sold 170 coasters(44 of which were build to permanent amusment parks) to 50 diffrenet countries.
In 2007, Interpark purchased all rights from the company Pinfari which declared bankrupcy in 2004. In this way they can offer models of themselves, but also the models that were build by Pinfari.
Roller coasters by Interpark
Edit
Mini Tropical
Edit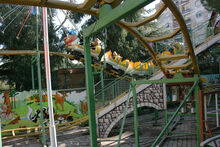 This is the smallest model that Interpark builds. This compact roller coaster has an area of 23 meters by 11.50 meters. The height of this model is 4.45 meters and the track length is 105 meters. The Mini Tropical uses a slightly diffrenet type of track the other Tropical models.
Silenced Mini Tropical
Edit
This is a slightly larger version of the Mini Tropical, but much quieter due to the diffrenet wheel types that are used on the ride. This coaster was developed for indoor purposes.
Tropical Track
Edit
This type is known for its Wacky Worm/Big Apple layout. This coaster has an area of 28 meters by 13.5 meters. The height is 5.50 meters and the track length is 170 meters.
This is the largest out of the Tropical Track model line. This coaster is 8 meters high and has a track length of 303 meters. The surface is 40 meters by 16 meters.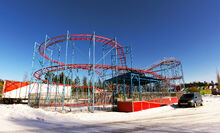 The Cyclon is Interpark's spin on the popular Pinfari Zyklon model by Pinfari. This model has an area of 40 meters by 17 meters and height of 10 meters.
Super Cyclon
Edit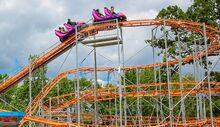 This roller coaster is almost identical to the cyclon, but has a track length of 350 taht makes it slightly longer and oparets with two cars per train instead of one per train.
Loop Coaster
Edit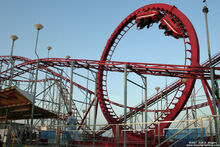 This coaster is a version of a super Cyclon coaster, but with a loop in the process, similar to the ZL model by Pinfari. Only two were build in permanent theme parks, both of which were turn down.
Crazy Mouse
Edit
The Crazy Mouse is the Wild Mouse coaster spin of Interpark. In the beginning you make a few hairpin bends, which are typical for the model.
Funny Mouse
Edit
A longer and higher version of the Crazy Mouse. Complete with hairpin bends an steep drops.
Wild Wind
Edit
The Wild Wind is a coaster model with a limited surface area, which was designe mainly to be a portable model for fairs. The coaster has a height of 10.05 meters and contains a Sidewinder in the course.
Community content is available under
CC-BY-SA
unless otherwise noted.