Hoot N Holler
General
[[File:|link=|center]]
Park
Darien Lake
Location
Darien Center, New York, USA
Status
Operating
Operated
Operated

1981

-
Opened

1981

Opening
Cost
Height restriction
Statistics
Manufacturer
Zierer
Builder
Designer
Werner Stengel
Type
Steel- Kiddie
Type
Model
Riders per train
10
Riders per hour
600
Lift/launch system
Drive Tire lift
Height

10.8 feet

Drop

feet

Top speed

16.2 mph

Length

197.5 feet

Dimensions

77.1 feet feet

x

39.3 feet

feet
Duration
Inversions
0
Steepest drop
Maximum g-force
Hoot N Holler is a kiddie roller coaster located at Darien Lake in Darien Center, New York, USA. It was the park's first roller coaster, when it was known as the Ladybug.[1] The track is in an oval shape, with small hills designed for young children to ride. The train is shaped like a caterpillar.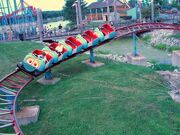 When the ride was built in 1981, it was the first roller coaster at the park. It was called Ladybug because of the shape of the trains. Located from 1981-1988 in the vicinity of the Giant Wheel, it was later moved to Adventure Land for Kids (created in 1988) it was renamed as Nessie the Dreamy Dragon to fit with the dragon-like theming of the area and was located where the Big Kahuna is now and is now near Mind Eraser in an area called the Tiny Trio which features three of the Adventure Land for Kids the other two rides are an umbrella kiddie ride called BMX Motocross and Dodgems kiddie bumper cars ride.
For the 2012 season, Darien Lake rethemed their kid's section to Rowdys Ridge which will bring three new rides Hornet's Nest, Moose on the Loose, and Rowdy's Heave Ho! and the retheme of two attractions Brain Teaser to Hoot N Holler and Raccoon Rally.
The track is painted red and the supports teal. This is the same colour scheme as Mind Eraser, also at Darien Lake
Single train with 5 cars. Riders are arranged 2 across in a single row for a total of 10 riders.
When Hoot N Holler was move to its second home on the shore of Elk Lake as part of "Adventure Land for Kids" in 1988, the ride was rethemed as "Nessie the Dreamy Dragon" and the train was repainted green and yellow.
References
Edit
This page needs a POV. You can help Coasterpedia by adding one!