This article contains a dated infobox.
It would be greatly appreciated if you help us by converting it to the new one. For help in doing this, please visit this page.
Griffon
300px

Statistics

Location

Capacity

1,400 Riders per hour

Manufacturer

Height

205 feet

Top speed

71 mph

2

Steepest Drop

90°

Maximum G-Force

4G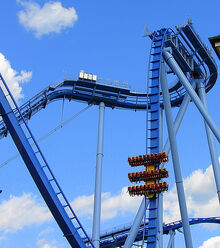 Griffon is a Bolliger & Mabillard, Dive Coaster located at Busch Gardens Williamsburg in Virginia. It is the tallest and fastest coaster of its kind. Griffon is themed after a mythological half-lion/half-eagle creature called a Griffin, instead of the breed of dog with the same name. Griffon is located within the France section of the park.