Gosetto
Statistics

Location

Via Montegrappa, 122 z.i. Mosnigo di Moriago Treviso, Veneto, Italy

l Founded l 1977 l- l Roller Coasters Built l 8 l- l Official Website l https://www.gosetto.com/ l-
Gosetto is an Italian manufacturer of mainly fairground attractions, which based in Treviso in Italy. The company is a family buisness, founded by the Gosetto brothers in 1977 and grew to be a somewhat well known builder across fairs at Europe and even permanent amusment parks. In the meantime the company is in the hands of the children of the founders and is considered to be one of the most important fairground manufacturers.
After 20 years of working as a manager of attractions, the Gosetto brothers are now known as builders for their bumper cars, merry-go-rounds, roller coasters and much more.
The attractions
Edit
Note: The attractions that Gosetto builds are mostly meant to fairs, meaning that they are easy to set up and brake down. However, many attractions can also be found at permanent parks.
Roller Coasters
Edit
Spinning Coaster Edit
First introduct at 2015 to Dennlys Parc, this model was designed to give childrens a first roller coaster experience. This is a rather modest coaster, it has an area of 24.7 by 12.70 meters. The coaster has a figure eight shaped layout, on which a train with four cars runs. The train is lifted by a tire system. Each car is equipped with a motor to make it spin. Currently 7 of those can be found worldwide, making it the most popular model of the company.
Family Cosmic Spin Edit
The Gosetto Cosmic Spin is created for indoor or outdoor use and features dual rail track, motors in each car and fits in a 23 x 12 meter space. Unlike the spinning coaster trains, the trains on this coaster includes 5 cars, which seat 3 riders each, and contains an oval shaped layout rather that the figure eight layout of it's larger relative. Currently the only one of those can be found in Magic Planet at Abu Dhabi.
Family Coaster Edit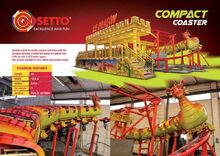 This model is a special coaster designed for the whole family, that allows kids and adults together to ride. The Gosetto Family Coaster is a rather modest coaster model that can be made for indoor or outdoor parks, it fits in little spaces (an area of 25x12 is enough), it's composed by 4 cars, 4 passengers each. Unlike previous models, this one is not purchased by any park yet.
Funhouse Edit
A funhouse is an attraction for the whole family. guests have to walk through the attraction, which is full of obstacles and elaborate scenes that match the theme of the house the park chooses. Usually speciel effects such as sounds, lights and even animatronics can be used.
Drark Rides Edit
Gosetto is also responsible for multiple dark rides. The theme can be family friendly or horror, if the park chooses the haunted castle. Gosetto builds it's own cars that guests ride through the atraction. The cars can be or suspended or sit down.
Party Dance Edit
This is an attraction build by the company itself. At the party dance guests take place on one of the double seats, attached to an arm. The basis of the attraction revolves around, but also the arms to which the seats are attached. During the ride you go diffrenet directions, as well as up and down.
Super Skate Edit
This attraction was based on an acrobatic skateboarding competetion. The attraction consists of an oval shaped track, over which two carts ride. When driving, the cars turn sent.
Bumper Cars Edit
Gosetto's bumper cars are indispensable for the fairs. The cars comee in all shapes, sizes and colors.
Gosetto also builds its own go carts attraction. The trail can differ from a simple oval layout to one with a floor. The karts themselves are powered either by electricity or with gasoline.
Musik Express Edit
In this attraction, the cars stand in a circle behind each other. When the attraction starts, the cars drive up and down a slope and go faster and faster. The attraction goes forwards and backwards.
Community content is available under
CC-BY-SA
unless otherwise noted.