GateKeeper

GateKeeper (Cedar Point) - Pre-Opening (1080p) - Right

GateKeeper (Cedar Point) - Pre-Opening (1080p) - Left

General
[[File:|link=|center]]
Park
Cedar Point
Location
Sandusky, Ohio, USA
Status
Operating
Operated
Operated

May 11, 2013

-
Opened

May 11, 2013

Opening
Cost
$25,000,000
Height restriction
Statistics
Manufacturer
Bolliger & Mabillard
Builder
Designer
Type
Steel- Winged
Type
Model
Riders per train
32
Riders per hour
1,710
Lift/launch system
Chain Lift
Height

170 feet

Drop

164 feet

Top speed

67 mph

Length

4,164 feet

Dimensions

feet

x

feet

Duration
2:40
Inversions
6
Steepest drop
Maximum g-force
GateKeeper is a Bolliger & Mabillard wing coaster located at Cedar Point in Sandusky, Ohio, USA. Both Disaster Transport and Space Spiral (a gyro tower) were removed from the park to make room for the ride.
Design
GateKeeper is the tallest, fastest, and longest wing rider in the world.[1] The coaster itself is described as a "Front gate statement— a roller coaster that flies overhead, rolls and flies back— highly visible above guests entering the park." It also contains the highest inversion in the world.
Ride Experience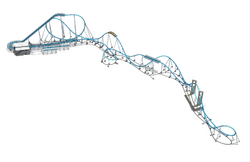 The train is hoisted up a 170 foot lift hill at a 40 degree angle. Once riders crest the top of the lift hill, the train will rotate 180 degrees to the right and the train will fall down the 164 foot "Wing Over Drop" reaching speeds of 67 mph. The coaster then rolls through an adjacent immelmann , and then coast over a 105' camelback hill. Followed by a "Giant Flat Spin" and through a Zero-G Roll—which includes two key-hole towers. At the bottom of the zero g roll, the train coasts through an inclined diving loop, then through an inline roll adjacent to the keyhole towers. The train continues through a mid-course brake-run, a camelback drop, a 360° helix, a small bunny-hop and then into the main brakes.
References
Community content is available under
CC-BY-SA
unless otherwise noted.