This page is about the model manufactured by Gerstlauer. You may have been looking for the roller coaster Eurofighter.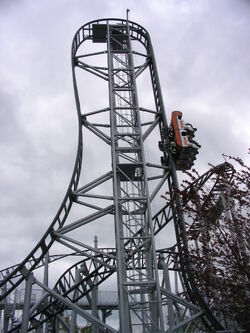 The Euro-Fighter is a popular steel roller coaster design built by Gerstlauer. The first installation was Vild-Svinet at BonBon-Land in Denmark, and since then another 14 have been built. The majority of Euro-Fighters are custom designed for the park, but there are also pre-designed models.
The longest and steepest Euro-Fighter to date is Takabisha at Fuji-Q Highland in Japan, which is also the steepest roller coaster in the world, with a 121 degree drop.
Design
The main characteristic of the model line is it's 'beyond vertical' drop, which reaches angles of over 90 degrees. Also, the lift hill is vertical and precedes the drop, forming a tower (pictured left) which is easily recognizable.
Riders sit in single cars, seating 8 riders in two rows of four. Two exceptions are Huracan at Belantis and Dare Devil Dive at Six Flags Over Georgia, which use cars similar to Gerstlauer's launched roller coasters, searing 6 riders in three rows of two. The cars use over-the-shoulder restraints, and may be themed (to an extent) to a customer's needs. Dare Devil Dive is the first Euro-Fighter to use the new lap-bar restraints.
The Euro-Fighter can feature a wide variety of inversions, such as the vertical loop, cobra roll, immelman and barrel roll. Some recent Euro-Fighters also feature LSM launches.
Installations
Community content is available under
CC-BY-SA
unless otherwise noted.