De Waarbeek
Amusement Park
Location
Twekkelerweg 327

Hengelo, Overijssel, Netherlands

Status
Operating
Operated
Operated

20.4.1924

-
Opened

20.4.1924

Opening
Owner
Kevin Moespot

Janna van der Linde

Area
Previous names
Theehuis De Waarbeek (20.4.1924 to ≥ 1925)
Operating season
Slogan
For an affordable price, enjoy the whole day

Park map

[[File:|border|x100px|link=|center|Click to expand]]
Website
[1]
Roller coasters:Rodelbaan
De Waarbeek is a family amusment park, located inthe city of Hengelo in Twente.
The park focuses primarily on children between three and up to twelve years. There are 44 attractions that usaully have an old-fashioned character. The most important attraction in the park is Rodelbaan, a build in house steel coaster and the 2nd oldest operating steel coaster in the world. Since 2015, the park refered itself as the "first amusment park fully powered by green energy".
History
The park opened on April 20, 1924 under the name "Theehuis De Waarbeek". The land was bought in mid-1923 by brothers Jan Hendrik and Herman Smith during the public sale and the request of the heirs of H. Hulshoff. Hulsoff Pol had laid out an English garden on these grounds earlier, including 2 ponds. One of these ponds still in use as a rowing pond for the rowing boats. There were also a tennis court with a tea dome in th garden. The park was first no more then a smiple playground. In early years people could go from the Waarbeek station, which made a connection between Hengelo and Encshede. The first major attraction was the Rodelbaan coaster which was placed in the park in 1930 by the park itself. Only in 2000 the park was classified as an amusment park for all ages.
In 2009 the park got two new owners, Joris Bengvoord and Arijan van Bavel, came to give the park a majot makeover, with five new attractions were added.
Since 2013 there are summer evenings with T.V celebrities such as Dora and Bob the Builder as a driving force.There is circus performances every day during the autunm holidays.In December period there is a large christmas tree and the park is lit with winter activities.
On 5 August 2015, the park achieved its record with 4200 visitors.
In 2018 the park was sold to Kevin Moespot and Janna van der Linde,which continues to operate the park to this day.
Attractiones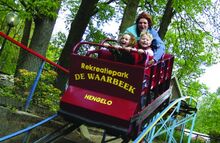 Other attractions
Twister
Twekky's Springbuik
Dinkie Toys' Race Track
Nostalgic Arcade
Twekky's Theater
Venture River
Duck Carousel
Track track
Golf Jet
Skyflyer
Hully Gully
Chairlift
Pumpkin carousel
Ferris Wheel
Swing Mill
Bumper cars
Mini self driving cars
Mini carousel
Float mill
Nautic Jet
Vintage cars
Playground for small childrens
Inflatable bouncer
Mini golf course
Aquaball
Bungee diver
Floating cars
Mascot
The park's mascot is "Twekky", a clownish figure with a large clock in the shape of a hat. Twekky can be seen in the park potraid by actors.
Community content is available under
CC-BY-SA
unless otherwise noted.