Cannibal

Example

General
[[File:|link=|center]]
Park
Lagoon
Location
Farmington, Utah
Status
Open
Operated
Operated

2015

-
Opened

2015

Opening
Cost
$22,000,000
Height restriction
46-48"
Statistics
Manufacturer
In-house
Builder
Mainly in-house
Designer
In-house
Type
Steel
Type
Model
Riders per train
12
Riders per hour
1,200
Lift/launch system
Height

208 feet

Drop

feet

Top speed

70 mph

Length

2,735 feet

Dimensions

feet

x

feet

Duration
2:30
Inversions
3
Steepest drop
116° (Country Record)
Maximum g-force
4.2g
This roller coaster,
Cannibal
, was in development and construction for 5 years. It has an enclosed vertical elevator lift going up to 208 feet high, followed by a 116° degree drop which is the steepest in America and the 4th steepest in the world. It is also the tallest beyond the vertical drop in the world. It has an underground tunnel, a 140-foot inverted loop, a diving loop, and a unique element: a double barrel roll that reverses rotational direction half-way through, suspended over a 50-foot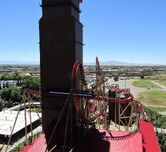 waterfall. This element is named the "Lagoon Roll" since it was designed and built first for Lagoon's Cannibal. The track then curves around into a helix that tunnels behind the waterfall. It travels 70 mph and has a 12 seat train. This is a one-of-a-kind coaster that is a thriller for everyone!
Design
Community content is available under
CC-BY-SA
unless otherwise noted.