Blue Bayou Dixie Landin'
Amusement Park
Location
18142 Perkins Road E

Baton Rouge, Louisiana, United States

Status
Operating
Operated
Operated

1999

-
Opened

1999

Opening
Owner
Samuel B. Haynes, Jr.
Area
Previous names
Operating season
May 5 through September 3
Slogan
'

Park map

[[File:|border|x100px|link=|center|Click to expand]]
Website
[1]
Roller Coasters: Gilbeau's Galaxi, Loco Loco, Ragin' Cajun.
Blue Bayou Dixie Landin' is an amusement park in Baton Rouge, Louisiana. The park is divided into two parts: Blue Bayou and Dixie Landin'. Blue Bayou is a water park and Dixie Landin' is a more traditional amusement park with thrill rides.
The park
Blue Bayou
Blue Bayou is the waterpark section and has 20 attractions including a lazy river, a behemoth bowl, a quadruple aqualoop, a wave pool, a ProSlide Tornado, and many other slides. Over the years, it has been adding new attractions. The newest attraction is "Mambo", a quadruple aqualoop which opened in August 2012. For the 2012 season, it also updated its lazy river, bathhouses, food menus, and kids section. It is also known as "The Land of the Giants", as it is home to five of the world's largest water slides.
Dixie Landin'
Dixie Landin' was built in 1999. Some of its rides came from the now defunct Fun Fair Park which was located at the intersection of Florida Boulevard and Airline Highway. It includes rides for all ages, including kiddie rides and thrill seeker rides. It currently has 27 attractions, including an S&S combo drop tower, a log flume, three roller coasters, and a variety of flat rides. The Drop Tower, Hot Shot, was originally the O2 Tower from Panama City Beach, Florida's now defunct Miracle Strip Amusement Park. In 2008, Hurricane Gustav destroyed the Coca-Cola concert stage, however, a new one was built in time for the 2009 season.
Attractions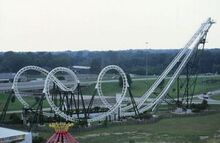 Former (1)
Other
Barataria Pirate
Black Widow (spider)
Flyin' Tiger
Gumbo YoYo
Side Winder
Jambayala
Fouchon Flyer
Zydeco Express (Music Express)
The Splinter
Cajun Collision
Grand Carousel
Gasoline Alley
Dixie Landin' Manchac Railroad
Merry Go Round
Zoom
Drums of Fun
Combination
Old 99's
Incidents
On June 9, 2006, a 2-year-old boy broke his arms and legs after falling at least 25 feet (7.6 m) from the "Over the Rainbow" ride. He was seated next to 3½-year-old sister but about 8 feet (2.4 m) from his mother at the time; his mother says she was told that the other adjacent seat was out of order.
On July 11, 2010, around 4:00 p.m., a woman fell to her death from the now-defunct Xtreme roller coaster.
On August 4, 2011, Blue Bayou and Dixie Landin' was fined $25,295 by the U.S. Department of Labor for numerous labor violations. The park was allowing minors to work more than eight hours a day. 49 minors in the 14- to 15-year-old category were found to be subject to child labor provision violations.
Hurricane Gustav
Hurricane Gustav caused moderate damage to both parks on September 1, 2008. Many trees were snapped, blown over, or uprooted. The Coca-Cola stage was destroyed, the awnings were blown off the Azuka, a portion of the Pirate's Cove roof was blown off, and a storage building alongside the Lazy River had its metal chimney knocked down onto the roof (it still remains lying on the roof, and was actually damaged again by Hurricane Isaac in 2012); the storage building contains the Lazy River's water flow pump. Multiple other attractions and buildings were affected. Luckily for Blue Bayou/Dixie Landin', the parks had just ended their season when the storm struck. They reopened in time for the 2009 season.
Community content is available under
CC-BY-SA
unless otherwise noted.