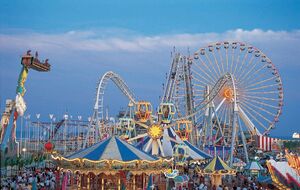 An amusement park is a park that includes multiple rides and attractions for the purpose of entertainment. An amusement park is more elaborate than a simple city park or playground and caters for all ages. Amusement parks have a fixed location, rather than moving periodically like funfairs and carnivals.
Amusement parks collect much of their revenue from admission fees paid by guests attending the park. Other revenue sources include parking fees, food, beverage sales, souvenirs, and advertisements. Some parks charge an entry fee which allows unlimited access to all attractions, whereas others offer free admission but charge guests for each attraction.
Theme parks
Some amusement parks just provide rides (e.g. the Pleasure Beach Blackpool, whose slogans have included "Where the theme is fun"), but others (called "theme parks") have an overall theme (e.g. the Wild-West themed Frontierland Morecambe, which has now closed) or several areas with individual themes (e.g. Alton Towers). Many people erroneously use the term "theme park" to refer even to parks with no theming (possibly except individual ride theming, which nearly all rides have nowadays), just as others even more erroneously refer to all ride collections as "funfairs" (which, strictly speaking, refers to traveling ride collections).
History
Amusement parks evolved in Europe from fairs and pleasure gardens which were created for people's recreation. The oldest amusement park known, opened in 1583, is Bakken, in Klampenborg, Denmark.